Turmeric is the herb to be heard these days. It is orange, spicy and amazing for the body. All sorts of benefits are being shown and clinically studied in regards to Curcuma longa. As modern herbal lovers, some of us need to know the science behind it all. In Ayurveda Traditions, Golden Milk has been a staple medicinal for thousands of years.
Blessings from Turmeric
Turmeric – Curcuma longa also known in as Indian saffron has been a staple of Ayurveda and Traditional Chinese Medicine practices for thousands of years. Its use is dated back 4,000 years making it an ancient medicinal herb.
Turmeric is derived of the Latin word terra merta or mertirous earth. And in Indian Sanskrit there are 53 names for Turmeric. Names like anestha – not offered for homa (or sacrifice), bhadra – auspicious/lucky, dhirghara – long in apperance, hirdayarilasini – charming, or gives delight to the heart, jayanti – one that wins over disease, laxmui – prosperity, ratrimanika – as beautiful as moonlight. The list continues as to the beloved names of turmeric.
It was known centuries ago and now modern science realizes the many remedies of turmeric. Turmeric is an anti-inflammatory, anti tumor, full of antioxidants, antiseptic, cardioprotectant, hepatoprotectant and digestive. Not only this but it strengthens the body and greatly increases circulation to the brain. There are studies showing turmeric to be decreasing to dementia, Alzheimers, and degenerative brain functioning. For a healthy vibrant human, it will increase memory, and strengthen the nervous system. This list being justthe tip of the iceberg in regards to the remedies of turmeric.
Offerings from Ginger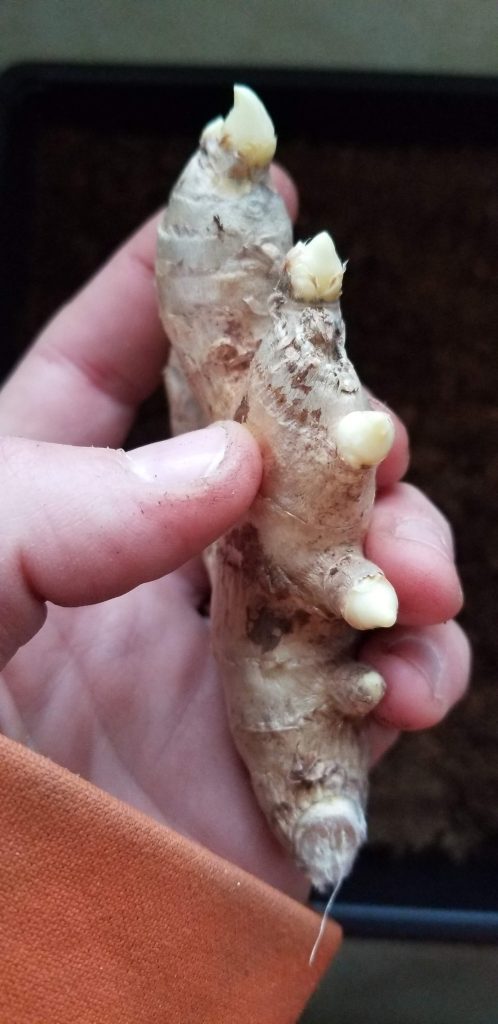 This herb is well known as a health food. It is spicy, and floral. It's taste is spicy and sweet all in the same bite. It flavors soups, and makes an excellent tea. Many cultures love this plant as Ginger is a traditional remedy as well.
TCM, Ayurveda and Western Herbalism all use this plant for wellness. In North America we have a wild ginger that has some of the same properties as Zingiber, but it is not quite as robust. Classic Ginger grows in tropical environments best. I loves warm temperatures and thrives in humidity. I have seen it prosper in some green houses, even out here in the Rockies. But the crop doesn't tend to be plentiful.
As a medicine, Ginger holds many actions. Like Turmeric, it is an antioxidant, and anti-inflammatory. As well as it being incredibly stimulating to the circulatory system. Hot bodies will be cooled, by perspiration and cold bodies warmed with increase of blood flow. It is indeed a perfect companion to Turmeric in this warming, nourishing beverage.
Cinnamon & Cadramom – Sweet Spices of Wellness
Cinnamon and Cardamom are both traditional, well known spices for cooking and baking. They are both sweet, but hot as well. Traditionally in our culture we add these two to Christmas and Thanksgiving baking, but they have also been around for centuries. As well as being used in traditional cooking, and remedies in other parts of the world. Studies have started to pop up as to the regulatory aspects of Cinnamon in Blood Sugar levels. They both nourish and regenerate the circulatory systems and are soothing aromatics. Cinnamon and Cardamom make an excellent choice, and prove to be traditional spices for our Golden Milk.
Black Pepper – Piper nigrum
There is much talk about the necessity of Black Pepper accompanying Turmeric for better assimilation. It is thought that it is needed to cross the Blood Brain Barier. As well as making Turmeric more Fat Soluble and there for more useful in therapeutic circumstances.
I have not read studies showing this, but Black Pepper is indeed a tradtional addition to Golden Milk. Whether it is assimilation of Turmeric. Or the stimulating aspects of the plant. Piper nigrum makes an extra warming addition to our Winter Tea.
It is an aromatic. As well as a carminative, rubifacient, and digestive. Black Pepper also has a particular stimulating effect in the production of mucous in our mucous membranes. All of these components of the plant, matching it's others in the recipe. Adding just a bit will be enough to add to the relaxing, and nourishing aspects of the blend.
Medley of Magical Herbs
As you have begun to grasp here. These herbs were not chosen by accident. They were blended perfectly thousands of years ago by the knowing of the magic of plants. They match in action, effect and taste. Each of the other one playing on sweet, floral, and spicy flavors. Emulsified in a fatty coconut milk makes Golden Milk a perfect Tea for Winter Time and all of the time.