the PERFECT Dandelion Bitters for Beginners – Digestive bitters
Health Interests – Digestion & Nutrition
Nettles are very high in nutrients, vitamins and minerals.  They even contain significant amount of protein & fatty acids! Making stinging nettle supplements a superior source of multivitamins!
Working alongside Dandelion Leaf & Root.  Both Traditional Digestive Bitters Herbs
This will be your go to blend of nettle and dandelion bitters for more reasons than one… so, I have to ask you a question…
Can you digest a rock?
I ask because most capsules and tablets that you are taking, actually contain raw minerals that have been taken straight from the earth and delivered to your mouth. What are we actually getting out of this method of ingesting nutrients?
Honestly, this way of supplementing our diet causes more harm than any good. Studies are showing that calcium taken in its raw form is stored in the bones, displacing readily available calcium from food that would build bone, and is leading to osteoporosis. 
Nearly 2 decades of talking to people about their health and wellness routines, I have found that the misunderstanding and guidance as to what truly nourishes our bodies, is backwards. And MOST people are depending on capsules & tablets that contain these raw minerals (essentially rocks) for their health.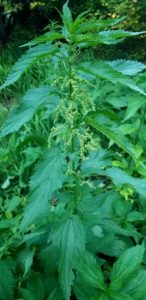 Instead, we MUST be focusing on real food and herbal ingredients that have the minerals & nutrients ready to be absorbed by the body!
The supplement industry is already confusing enough. So let's simplify this process. 
Enter Herbal Digestive Bitters made from FRESH Plant Materials!
Plants are good at a lot, but this one component of what they do makes US so happy. They make these raw nutrients and minerals from the Earth, perfectly ready for our bodies to absorb. No longer making it a thing to ask, if you can digest a rock! Plants are doing that FOR us and Digestive Bitters HELP us get more out of all our food.
Food truly is our medicine, and Medicinal Herbs have the potency to deliver all that we need in the form of minerals, and nutrients for our bodies to THRIVE.
Are you ready to get ALL that you want from your Supplements, and more
At Enchantment Creek Apothecary we ONLY work with FRESH plant material grown right here at our farm. 
This ensures you are getting the most out of each drop to nourish, revitalize and support the health and vitality of your body. 
It is time for you to get TRUE and REAL nutrition from plants.  
We make POWERFUL Herbal Extracts that truly nourish your body and encourage optimal functioning from digestion to sleep and stress responses. It is time for YOU to feel the difference Plants can make in your life.
Suggested Use: take 1-2 mls with Meals or when experiencing Problematic Food Cravings
Ingredients: Organic Apple Cider Vinegar,  FRESH Stinging Nettle tincture (whole plant), FRESH Dandelion tincture Leaf & Root, FRESH Peppermint (whole plant), Local Potato Alcohol