Spirit Medicine & Shadow Work. Arnica works to realize stuck pain. So that YOU can move through it. Diving into the Realm of Plant Spirits. THIS plant, a beloved Woodland flower here at Enchantment Creek Apothecary. I talk about this flower on a regular basis. We have our most popular product; Arnica Pain Balm. It is incredibly effective for reducing inflammation while addressing pain. Effective in all areas of pain manifesting in the joints, muscles, and head. Sports injuries all the way to rheumatoid arthritis. Our balm is effective.
What I don't talk about on a regular basis is the internal application of Arnica.  
Because taking Arnica internally as not generally recommended. But for certain issues of spirit it is incredibly effective. Arnica strives to release stuck pain of physical and spiritual conditions.
There is a disclaimer with the application of Arnica in this way. We sell a tincture of our beloved flower. Consultation is absolutely required before purchasing this product. Here I would like to explore the effects of this internal application on the Psyche and Subconscious bodies.
Why Work on Stuck Pain of Spirit Medicine & Shadow Work?
Many of our deep spiritual issues come from places unknown. Our society then teaches us not to address these pains. It is not considered acceptable to be in pain Their best way to address spiritual pain as to numb it.
1 in 6 people in the United States are on Antidepressants. Bipolar diagnosis are skyrocketing. Suicide rates are through the roof. We are living in incredibly dark times. And are expected to just keep on moving. While working hard not to place blame here. I do recognize patterns of choosing to ignore or brush aside deep rooted issues manifesting in these ways. Because of the uncomfort in working through those darkest of nooks in our minds.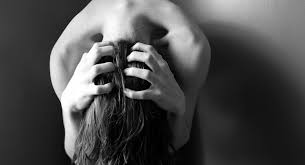 In private practice I work with people who are dealing with severe Anxiety, PTSD and depression.  What I hear over and over again is how the doctors they are working with don't communicate with one another. Especially when regarding prescriptions.  Neither do they ask about the process and how daily life is working for the person. They dive into the known and work with that. Applying pharmaceutical drugs to address symptoms.  Then move the person along.  
Personal Experience…
I have even heard of Counselors ARGUING with their patients… All the while, numbing the symptoms and ignoring the deep rooted issues the person is dealing with daily. How is a person supposed to heal in this way of treatment? Why can we not admit that Modern Science… which I LOVE by the way… doesn't fully understand how the brain works. How trauma is absorbed into the body. And why depression manifests in the way that it does.
From personal experience, traumas that are manifesting in the now can be traced back to childhood. The only way to explore this is through deep shadow work. Applying deep meditation and working with a diligent person who is willing to do this work. This is not the easy way. Working through trauma in this manner is incredibly complex. The path is not easy. And it takes an intense amount of dedication. The process can take weeks, months, or years to get to understand where these triggers are coming from. While working on a treatment plan.
Spirit Medicine & Shadow Work with Arnica
This Arnica flower when applied internally in drop doses allows us to deliver meditation to the root. We may not even fully understand at the time what or where this root is. Arnica gives us the mechanism to recognize as it unfolds in our bodies. Stuck and hidden memories will begin to come to the surface. Stagnant traumatic experiences that have been shoved into the darkness of our bodies start to come forward. Because of the act of discovering this darkness I feel that many people choose to ignore. We don't generally WANT to see what is dark. Then when working in a clinical setting, getting into a client's darkness can be a very scary place. I know that when I went into mine, I was terrified. In this light, I understand why there is so much numbing and not more movement.
But again, we all know by now that when we work with nature we are automatically comforted.  Our bodies which are nature, understand natural applications. Even though it may be scary we feel this web of support coming from the plants.  I have no science to back this up. Only experience. We lost our traditions centuries ago that told showed us how to work and the spirit realm.  I feel that this awakening that's happening now with the movement toward nature. The wild food implementation.
Our general yearning for something REAL. 
All while we begin to turn away from pharmaceuticals. Steering away from chemical applications and turning towards what is natural. This is all a part of the re-connection to these lost traditions.  Our lost remedies and natural ways of healing.  
It is our BIRTH right…
To be able to heal ourselves. To be able to nurture what is stuck and recognize what is a burden to ours spiritual psyches. And nature is a part of that. Nature is all around us asking us please remember what is real. Remember what you are. And I feel we are listening. Spirit Medicine & Shadow Work. Arnica works to realize stuck pain.
As we continue to turn away from pharmaceuticals, fake food, and fake news. We will find what is real. The shift will happen automatically. I know you're ready for the shift because you're here. I know that we will find nature because we are remembering that we are nature. By turning away from the fake chemical created compounds that are only causing more harm. We remember.
Walking with nature
I have stood with Arnica many times in the high conifer forests of the Rockies. As I pick the flowers growing along rhizomes. I can taste the resin on my lips. The resin is not a usual one. It doesn't contain volatile oils, or terpenes. But it is slightly sticky. Bitter to the taste buds. As I've tasted this flower while harvesting. I have gone into trances. Many times I find myself sitting down to absorb what Arnica wants to tell me. Shadows come out of nowhere. Spirit Medicine & Shadow Work. Arnica works to realize stuck pain. So that YOU can move through it. Diving into the Realm of Plant Spirits. They are shadows from within my body that have never crossed my mind. Usually they are quite creepy. But I remember them somewhere inside of my body. Recognizing that they are mine.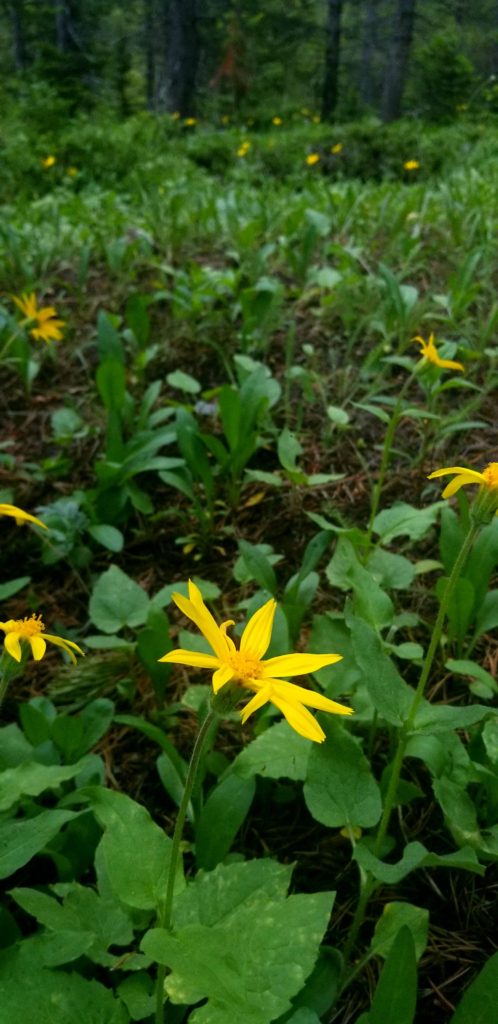 Instead of being afraid of the dark shadows coming out of the forest.  I sit with them. Sitting in the field of Arnica to listen and understand.  Taking in those small amounts resin off my lips. Breathing in the pollen that floats through the air as I harvest. 
This was all that I needed to have these memories surface. Then taking the moment to realize, understand and meditate with the messages coming through.  
These moments in the forest have happened to me with Arnica many times. It took awhile to realize these were significant moments of realizing.. After my mind calmed, cleared, and paid attention to them. The realization happened then. I stopped. And sat down. Came into my meditative space and absorbed it. And what I felt after listening to these simple, soft messages was release. Sweet release.
These releases were parts of me that I did not know where a part of the unrest I was experiencing.
Years later I'm still working through the roots of the cause of the reasoning behind situations my younger self experienced.
Arnica. The mover of pain. Physical and spiritual manifestations of pain. Deep rooted. Tucked away for rainy days. Arnica shows you without abandon what your pain is.
Green, nature made blessings to you my loves,