The Calling That I Couldn't Ignore
This is the story of how my life as an herbalist was planted, how it grew and the rain that sprouted it into the shrub it is now.  Though it may not make sense to everyone, as not all unknown aspects of life do, know that I bless you any way.  The ones who know will know and you will hopefully be inspired to follow what calls to you most as well, because that is what this life is… something greater than me or us, life is to follow what is whispering through the winds of the forest… calling me to try to understand what is unknown and mysterious…
The sort of human I strive to be is one who is open, and willing.  Being able to know from experience what works, what makes sense, and what is tangible.  These knowing's are not always ones that I can put my physical finger upon, and slide it over across a table with research, and data.  For me, that is OK, for some it is not.
Nature – My Sanctuary
Not only was nature my sanctuary from a very young age, it was somewhere that I would run to for comfort and peace.  I would willingly lay down in the grass, something that I still do regularly to this day, all the while not worrying about spiders or ants, or bugs that might crawl under my body.  Flowers were a shower of happy to my light soul, and I knew they were an absolute gift.  I loved to experience plants in every way that I could, I would stuff leaves and flowers in my mouth just to feel their life force come into mine. 
When I was sad, I would sit in a tree, or lay at the base of a massive fir for solitude.  While my young body would soak up all the juicy goodness of the moss that blanketed the floor of the Washington Rain Forest I was born into.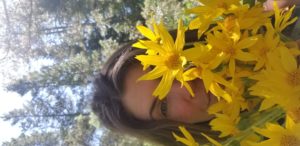 The plants were always my allies in this way, and though back then I didn't truly know why, what I did know was that the peace and calm that would rush over me was unmistakable.  Knowing then that these feelings came from somewhere bigger than me.  I was also fortunate to know the labor of love my grandparents put into their gardens where my sister, mother and I lived.  Not only were they full of flowers and herbs, but food bearing perennials.  The delicious veggies and preserves that would come from them were abundant in our home. 
I loved the colorful eggs that we would gather from our hens in the cool, misty mornings of Washington State.  The chickens laid eggs of all colors and shades, blue ones, brown ones, and green.  Each of them would come from the coop stuck with straw and heat from the nesting hens.  This was my and my sister's existence, she and I would sit in the coop and laugh at the hens pecking the ground.  We didn't care back then that we were sitting in their scratch, or their bacterium.   We just knew that we felt good there, our hearts were full, and that was all we needed.
The Beginning of 'Herbalist'
My love and work with plants started then.  The days when I would follow my grandfather around the garden.  Pushing the flowers into the soil deeper than he left them, just to follow his lead.  I would stand as tall as I could in the kitchen to see my grandmother's bubbling stock pots that were filled with gooseberries, raspberries, and the like…  these yummy treats would last us the winter, and we knew exactly who raised them, picked them, and prepared them.  Thanksgiving was a natural part of the day, giving thanks to God, my grandmother would hum, Hallelujah she would rejoice in her kitchen, and I knew it was perfect.
As I grew up, the excitement did fade, as a modern teen ager would usually experience. Our small Town was becoming a bigger town, and, I started to be lost in friends and giggling about boys, this all lead to the end of that realm of mine…  but it never left my soul. 
I held the yarning for love and a life that was  'normal'.  The kind of normal that has one fitting into the 'supposed to' of society.  I pushed for it, and forced unnatural connections to be more than what they were.  This is what broke me open in ways I never thought or imagined would be possible.  I was following the path of what society expected.  But the family patterns of my early childhood, and those that were deeper in my DNA, would prove to take me elsewhere.  
Relation-shits
The first relation-shit pushed me when I was 22 years old.  He told me that he wasn't interested in anything that I was interested in and did not want to spend time with me… at all, and to leave him alone… so I did.  I left him alone to be with his Television and Video games, and I to be alone with my plants… the best meditation and fulfillment I knew.  He didn't want time in the forest, or the garden, or to enjoy a sunset walk down the street. 
On these walks of mine, back then, I was mostly taking photographs.  I would absorb so much of the plants' life and beauty through my black and white, 35mm lenses.  Processing photos on paper manually, exposing my own film and keeping the dust off the mirrors in my delicate piece of vintage technology… that was my first joy and expression of creativity that my young soul grasped onto.  
Then that beloved camera needed a fix, and to my dismay, the parts had become obsolete… I couldn't even get a battery for my 1960 Konica Camera, I tried to work with digital photography, but the process didn't ignite my creative soul in a way that was satisfying.  So my love of photography somewhat died…  There I was.  No partner or camera.  I started to observe the plants & nature differently…
Exploring Energetics
I had always been connected greatly to spirit… but I didn't know what that was.  After the digital potography experience left me in the dark.  I realized that I was picking up a lot more from simply being with the plants & the landscape.  I was feeling something that reminded me of the premonitions I'd had throughout my life.  Of the intuition that left me knowing things about my loved ones.  The plants were sharing their wisdom with me too…
They were screaming into my energetic field, and not letting me leave their attention.  That old flame from my grandfather's garden was igniting again…  I started off growing all the plants I could get my hands on.  My neighbor and I ended up rototilling his lawn to make a garden.  We started a neighborhood seed collection.  Planning the garden each February we would share the seedling duties of the crops we were after. 
I ended up ruining many wooden surfaces in my house because each space I could find was filled with seedlings in jars, plastic indoor green houses, and potting containers.  The manure would come in March and we joyfully spread it across the freshly destroyed lawn to create a place of growth, and nurturing for the neighborhood, and the earth.
A Green Witch Was Born
I was hooked, everything I thought I would have wanted was completely unimportant.  I dreamed of plants, I dreamed of farming full time, all that mattered to me any more was when I could next get my hands in the dirt and be with my plants.  We grew so much food that first year, and probably doubled our cache the second, then we tripled, and the lawn continued to be less and less. 
I painted on headboards portraits of the Beatles so that our garden would be sung to each moment of the day and night, and it was awesome.  Ron and I would pluck corn fresh from the stock at the end of the day and giggle with our plants and portraits of the Beatles… how glorious was this life?  How did we get so fortunate to have this gardening fire in our souls?
The fall of the second year, our manure brought some extra special gifts, as it apparently had not been sterilized.  Mints, and yarrow were sprouting all throughout the garden, we would dig them up gently and transplant them to the edges creating an herbal barrier from the concrete of the street to our amazing natural space, in the middle of what used to just be a lawn in the city.
Fungal Encounters
Fall time came, and my refrigerator was completely full of heirloom tomatoes.  I had gallons of soup, juice, and though we gave them away every day to each of the neighbors, the fruits of our labor took up the entirety of the fridge in my craftsman rental home…  My neglectful live in person, with whom I was in a relationshit, would be so irritated at Ron and my bounty. A few times I found tomatoes in the trash can…  it wasn't long into that winter that I walked away from him and never turned back.
Before the culmination of me leaving the Grant Court existence I had the most profound energetic experience of my Budding Herbalist Heart.  After that, I could no longer ignore the plant realm and its blaring messages to my soul…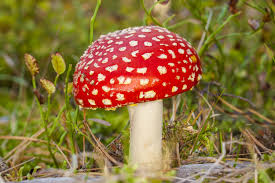 One early harvesting morning in the mist, a special friend sprouted from the active manure that had been full of other pasture plants, Amanita muscaria, the Mario Mushroom.  It was massive, it was brilliant red, and the splotches were superbly raised (this, I didn't expect in the slightest!).  I was compelled to pick this fantastical fantasy mushroom that I truly didn't realize existed away from childhood stories & lore. 
'How had I missed you?' I asked him directly. When I held him in my hand he transferred into my realm that we could indeed be friends.  Though I needed to be EXTREAMLY mindful with his power.  He was a magical mushroom that was to be ultimately respected.  The energy that came off of him was hot, and spicy and it flowed freely into my heart, and filled it up.
As I did know that these were somewhat toxic… later to realize they are incredibly so, I spread him through the garden to fertilize in a way.  He spoke so strongly to me, and later in life I know why.  He was the door to my full awakening.  He was the window to what was to come, and now I know, years of study, and research later, I now know the full power of his magic. 
He is the Shaman Shroom, the Santa Claus Mushroom of Christmas time in Nordic traditions (which is most of my heritage), he brought the Vikings closer to Oden in his magical disrupting.  He called to me then, and still does.  During the time of his harvest, amanita dances through my dreams.  We meditate together often.  But those first experiences with my friend Amanita I owe my entire understanding of plant energetics to…
A Dedicated Herbal Witch
Over a decade after meeting him, and countless hours of reading, studying, growing, and working with plants in the wild.  I know for certain I was not tricking myself into hearing the plants language.  No, it has expanded beyond anything I could ever imagine and has brought me so deeply into the forest.  
I am a grateful and a complete servant to the well being of the planet, and my fellow humans. Learning through the medicine of our ancestors.  My life was changed by that garden of my young adult life, I was not a 22-year-old in a bar, or in a college graduate program as I knew that those were not the places for me to be.  I was dirty and sweaty, giving back to the earth in the best way I knew how.  By connecting with it and nurturing its gifts of food and medicine.  In return, the greatest journey of health, wellbeing, and spirit was given to me.
I now reside in Wild Wyoming, in the precious land of Yellowstone and the Teton Mountain Range.  My heart is more full than I ever could imagine, and every day I get closer and closer to the natural world of the forest.  Along with the unknown aspects that our ancestors used to realize just by listening to these very messages that weren't tangible or concise. 
They were just felt and realized as truth because there was not only one person experiencing them.  Now the revolution is coming full force, and I am so grateful again to be in such proximity to it. 
I am an Herbalist, I am a healer that was activated by a mushroom who we were taught to be fearful of.  We were taught to fear, back when the Pagans were pushed into the woods.  Their healer women were burned, tortured & killed.  Then, along with their secrets and traditions, all was lost.  With them in the dark forests. 
Now, centuries later, a new revolution is awakening, and my green heart could not be happier to have listened to that mushroom so many years ago…
Green blessings my loves,