Mugwort is not just a bitter Herb. She is the dream Weaver. The energies of crone, wise woman, and mother. She is a story keeper and purifier. Mugwort has been a long time smoke medicine herb. Purifying space and energies. Bodies of physical & spiritual. Offering clarity through dreams, meditations and divine wisdom.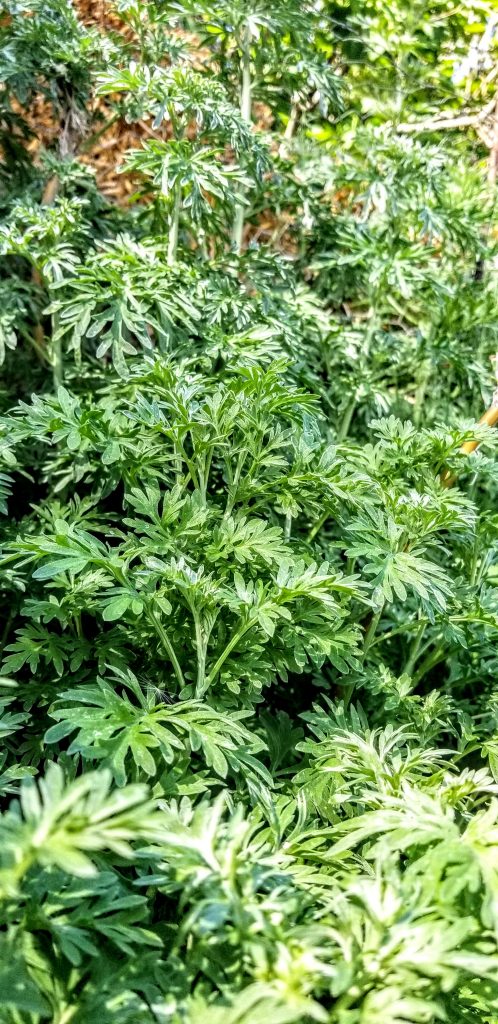 The prayer space this plant offers to us is deep. Bringing in the elder wisdom of grandmother. She offers clarity in paths unknown. While nurturing the process of finding what that may look like for each of us. When we have fallen away from our purpose. She comes to be there to gather our strength in getting back to our rhythm. I turn to her when dreams have come to be fuzzy. When I am wondering about the way the path is taking me. While I struggle in a day, week, or month. She brings me back to center. Reminding me that the path is the process. Encouraging me to move forward.
In meditative space we have worked a lot together. The blend of herbs in Mugwort Magic was given to me through meditation time. It all made sense when that message came through. Something for depression and anxiety yes. But most of all. Allowing a vehicle to the root of these issues. Lack of Prayer or Meditation Space. Mugwort wants to take us into these spaces. While helping us to find what that space looks like for each of us. When working with this herb, your quiet time to listen comes through clearly…

Acknowledging the dark sides…
Simplicity in implementing these life changing components is key. This has come to be very clear through working with clients. I want so much for the collective to realize how simple meditation is. In the New Age healing realms, there is so much conflicting information. Sit this way. Don't sit that way. Anger and fear are not mindful emotions. On and on these shoulds, don'ts and 'only this way' go.
It frustrates me. Many of my clients are skeptical BECAUSE of all this that they hear. Many people who are struggling severely with Anxiety, PTSD and Depression have these emotions all day every day. How do we expect them to heal when we shut them down from the beginning? Isn't the point of 'alternative' healing modalities to heal? How do we encourage healing when we are slandering half of the person who sits before us?

This is where I see plant wisdom fitting in perfectly. I listen to what they want to teach us. Mugwort purifies while encouraging flow. She weaves dreams to realize passions in the conscious mind. She clears, calms & organizes the subconscious thoughts so that they can come to full fruition. Fire & Ice Mugwort works with both energies. Knowing that the Darkness canNOT exist without the light. She teaches this to us.
Mugwort Magic
She is magic indeed. Blended with heart strengthening plants like yarrow and Hawthorne. All who help create boundaries around spiritual energies. BUT don't allow a hardening of the heart in the process. Protection of your space but opening up to your light. She sent this message to me in meditation while I was sorting out the formula for this blend. She aimed to show the strength of her medicine in the spirit realm… I share this wisdom she shared with me….
"Stay true to the path you are walking
Not only to see the trees, the water and rocks as one with you...
But to BE them
Know and feel you are one...
Laugh with the rain as it trickles down into the streams.
When it cascades through the rocks, see how the water carves its way.
Take this into your body and soul...
Feel the rock being worn down as sometimes emotions can do...
Drink this water with your deep roots as the trees of the forest do...
Know the tree as it is you...
This is the way to stay on your path in truth..."
- Mugwort 
BE Nature… all of nature…
Isn't it mostly gorgeous, but with sadness dipped in. Animals die so others can eat. Rocks are shattered to fill in gaps that make the foundation stronger. Water floods. Swells, and pushes forces we as human beings see as indestructible. How can we not see anger in this? Intensity, frustration. I see each of these emotions in nature. Storms, massive ocean swells, hurricanes, volcanoes. Do you see how Mugwort encourages us to be all components of nature? Becoming the water. Feeling the rock be worn down in our cells. Taking this nature in as it were us.
THIS is what Mugwort wants us to do. Because following this way is how we know it is ours. Flowing through each component of path. The shit times and the glorious ones. It is all a part of the consistent chaotic state of Nature. The realization starts here. With space. Space for contemplating messages. Being mindful that we are not the only communicative beings on the planet nor universe. With this space of prayer is set in. The vastness doesn't feel so empty. Our paths don't feel so crooked any more. We become one, centered and calm amidst the agony, anger and fear.