Stinging Nettle & Dandelion: Their Paired Nutrients
Our beloved bitters. We are turning to winter quickly here in the Big Horn Basin. Grass struggles to stay green as the frost takes over. Plant skeletons decorate the horizon in the ditch banks, and fields. Seed heads left wide open after dispersing in the early winds of fall. I love this time of year for resting. Regrouping. Looking forward and staying right in the moments of easy darkness. Summer is long past behind us in December. Along with the sun, it's productivity and buzzing like the busy bees.
Being inside more, and out gathering fresh forest treasures less. My body is wanting for something as we turn through to year's end. I generally look to my fresh plant vinegar extracts. They are packed with nutrient dense plant goodness from the harvest and growing season. This where I feel that something nourishing is entering my system. Taking me through the winter months, with the energy of summer.
This truly is the time of year that we tend to be lacking in nutrition. Not only because of the limited amounts of sunshine. But that we tend to be indoors more. Our gardens aren't growing, so our intake of fresh, nutrient dense foods is a fraction of what it is during the growing season. All these aspects of winter are ones that keep me taking bone broth regularly. Touting my bitter face with squirts of Minerals and Vitamins from my Vinegar Bitters. Mid-day, making sure to make nutritious, warming teas. These practices through winter, keep colds and flus away.
Nettles and Dandelion Nutrients…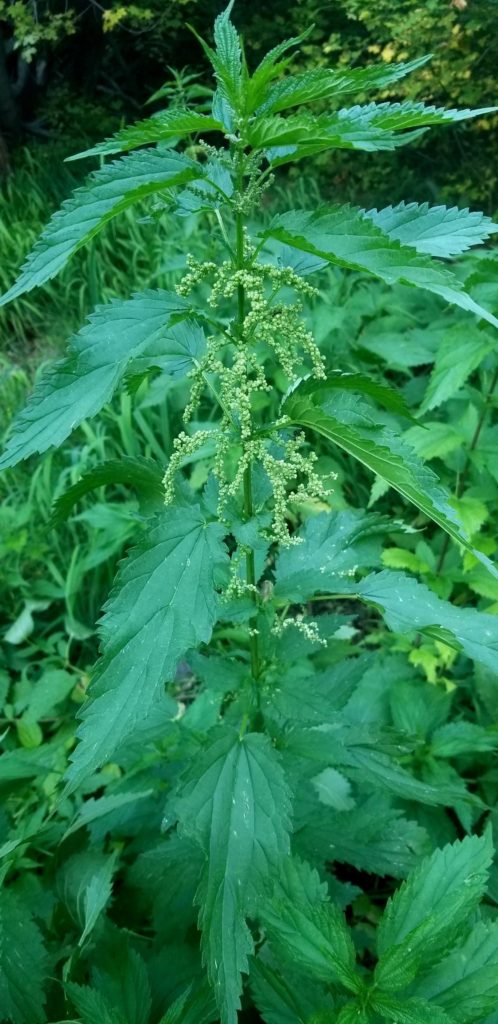 Nettles are a survival food. Dandelion greens were one of many spring leaves that were gobbled up by our Native peoples. NONE of these facts are to be taken lightly regarding how these two plants can feed your system.
Stinging Nettles are famous for their bite. BUT that can be taken as another way to identify this herb in your yard, wetland area, local forest, and prairie. Their leaves are tender treats when they are young. Just out of the thawed ground they come. They are getting ready to grow for the season. Tall and strong. I have come across wild patches of Nettles that were towering over my 5'10" head.
These leaves are excellent in soup, and on a frittata. Stir them in with your scrambled eggs and enjoy the stimulation! Nettles have a dense amount of nutrition… more on that subject in a minute… but they are slight diuretic as well. The Romans would test their grit and whip themselves with nettles. This giving the body a sort of rush as blood vessels dilate, and circulation is heightened. As this happens, inflammation is reduced as circulation comes to extremities, joints, and the digestive system. One point to Nettle's important bitter properties.
Nutrients of Wild Plants…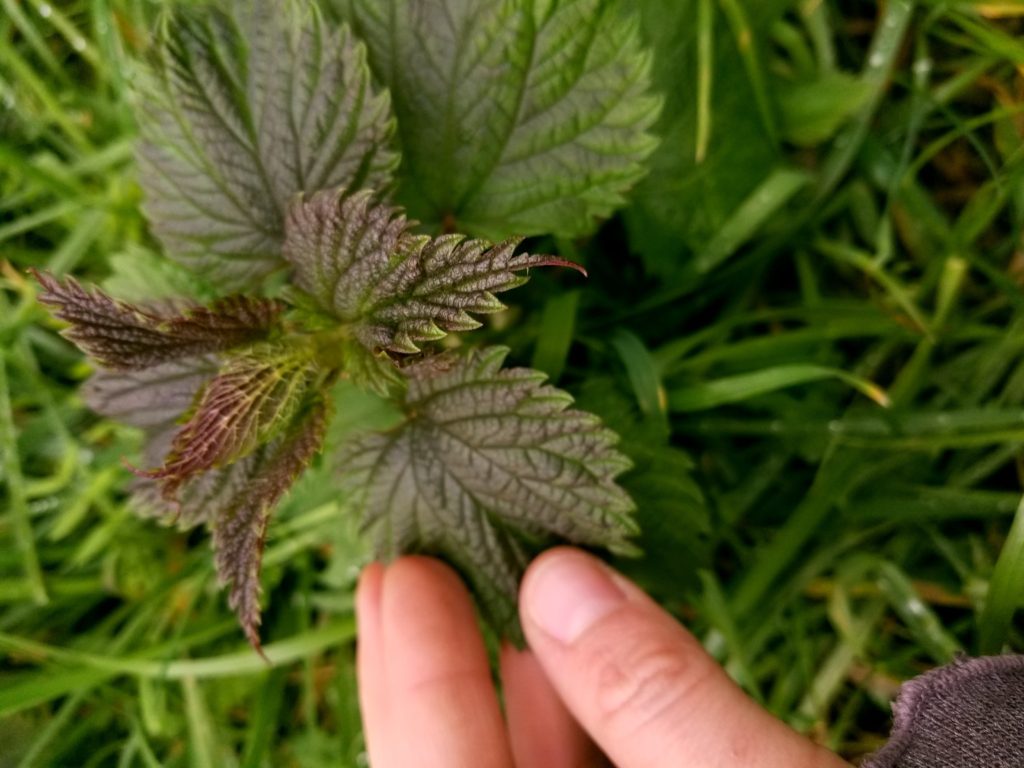 AS a survival food, these tender greens can get you through. Grown tall they contain an even more broad spectrum of nutrition. The fiber and chlorophyll are clear. When checking out grown plants. Their stalks are thick, strong and fibrous. This is all bioavailable to our guts in the form of pure plant fiber. Nettles can help you build a… well… you know what!
The chlorophyll provides the benefits of nature made antioxidants. Gut and body nourishing components for helping to repair damaged tissues. Not to mention the assistance in detox. Chlorophyll is sold at health food stores in concentrates for all these benefits and more. Though… when wanting to get this beneficial nutrient, I'd rather have straight from a plant.
The mineral and vitamin list of our Stinging nettles and dandelion are dense. When Nettles are grown tall they contains Fatty Acids in the plentiful seed tassels. Protein toughens the greens at this growing stage but makes the plant that much more nutrient dense. The minerals and trace mineral profile, alongside water- and fat-soluble vitamins. Nettles stagger the content of tablet, or capsule multi-vitamin supplements in the health food store. Again… I would much rather see nutrients coming from a pure place instead of bleached, dried out compounds that aren't at all reliable.
Dandelion leaves are similar in their profile of available nutrients. They are highly bitter with an extra dose of Chlorophyll. This encouraging a highly functioning digestive system. Allowing the body to assimilate nutrients at its optimal level of functioning. Our first spring green, Dandelions are diverse to say the least. In the pairing of these two plants, we can sustain a healthy life with what they have to offer.
Pure Plant Nutrient List
Nettles contain the following vitamins, minerals, and other key nutrients…
Protein
Fiber
Fatty Acids
Calcium
Phosphorus
Potassium
Magnesium
Iron
Sodium
Zinc
Phenolic Acids
Flavonoids
Antioxidants
Curcuminoids
Vitamin A
Vitamin C
Vitamin K
Several B Vitamins
Vitamin E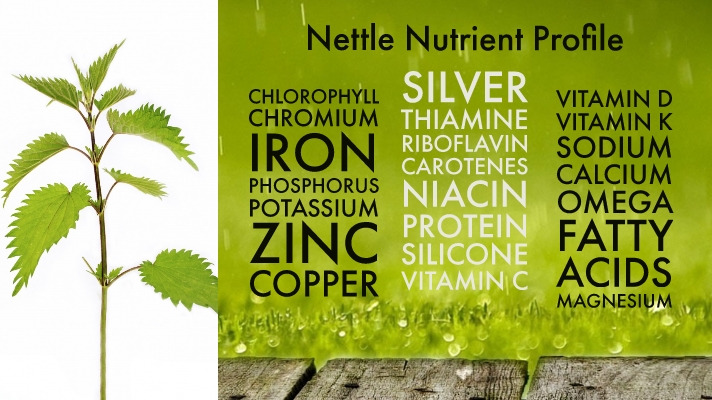 Nutrient Profile of Dandelion Greens
Fiber
Vitamin A
Vitamin C
Vitamin K
Vitamin D
Calcium
Iron
Potassium
Folate
Protein
Fatty Acids
Carbohydrates
Vinegar as a menstruum…
Most of the bitter remedies that are formulated here at Enchantment Creek are made with Vinegar instead of the usual Alcohol. Vinegar is excellent in its ability to extract nutrients, and active chemicals from plants. This is key to the effectiveness of our Bitters in their bitter alkaloid constituents. Along with the high dose of vitamins, minerals, and enzymes that Vinegar can extract. Our extra potent Vinegar Bitters are made from these FRESH plants of early springtime. They are waking up from winter slumber and bursting forth with a density of all they have to offer.
Using vinegar as the extraction method with bitter plants gives your body the best source of vitamins and minerals. Along with your digestion moving efficiently. This high dose of minerals, and vitamins that come straight from the plants. Your digestion is encouraged to function optimally while you feed it with pure plant nutrients. All in all, a win for a highly nourished body, mind and spirit.
As always, I am THRILLED to be YOUR Herbalist!